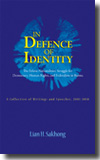 In Defence of Identity:
The Ethnic Nationalities Struggle for Democracy, Human Rights and Federalism in Burma
by Lian H. Sakhong
Orchid Press, 2010, x, 323 pp., 30 col. and 2 b & w photos, 3 maps, 21 x 14 cm., softbound. 460 grams.
ISBN: 9789745241336 $25.00
Lian H. Sakhong has spent most of his adult life engaged in the struggle with the oppressive rulers of Burma for the reinstatement of justice and basic freedoms for his ethnic group, the Chin people, as well as for other Burmese ethnic minority peoples and in fact for all Burmese. He has written and spoken relentlessly in support of this noble cause with an uncommon degree of energy, intelligence and eloquence, all to a degree that has gained him significant honours and his cause wide attention. The present collection of Dr. Sakhong's lectures, papers and speeches spans the past ten years. Together these essays provide the reader a rich portrayal of the history and culture of the Chin people and the present status of their brave struggle for nothing less than their personal and collective identity—in Dr Sakhong's words, their struggle to live their lives as authentic human beings again.
A highly informative, even inspirational, read, both for those new to the cause of human rights in Burma and for those who have long been engaged in this historic effort.

Dr. Lian H. Sakhong is the Chairman of Chin National Council and the ViceChairman of Ethnic Nationalities Council (Union of Burma). A postgraduate student at Rangoon University when the student-led democracy movement erupted in 1988, he quickly joined the movement and was arrested, interrogated and even tortured by the military junta on three separate occasions between 1988 and 1990.
He continued his studies in Sweden following his escape from Burma and was awarded the Ph.D. degree from Uppsala University in 2000 for his dissertation, Religion and Politics among the Chin People in Burma.
He has since both written and edited a series of books and papers on the political and social situation in modern Burma and was recognized for his efforts to improve the lives of all Burmese people with the award of the Martin Luther King Prize, in 2007.