Book Reviews

In Buddha's Land:
Visions of Buddhist Burma
Photography by
Moe Min

2007. 128 pp., 92 col. pl., 22 x 23 cm., softcover.

ISBN-10: 974-524-072-9 $30.00
ISBN-13: 978-974-524-072-8


Sacred Sights
Book review by Anthony Mecir from Bangkok Airways In-flight Magazine
(Fah Thai, July-August 2007)
THE LIFE AND WORK OF ONE OF MYANMAR'S FOREMOST PHOTOGRAPHERS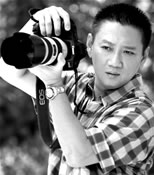 Moe Min with his trusty lens

MYANMAR-BORN MOE MIN had long dreamed of taking to the road, exploring every corner of his homeland and coming back with images of both the marvellous and the simple, in the daily lives of its people. But the demand for this kind of photography barely pays enough to fill your rice bowl in Myanmar, so the budding photographer developed connections to more lucrative international outlets. He set up a commercial business on a leafy lakeside in Yangon and began to shoot ads, models, posters and calendars. His Cosmic Ray Studio is now the country's largest photographic agency and its financial success has enabled Moe Min to pursue his true passion. The new book, In Buddha's Land: Visions of Buddhist Myanmar, published in May by Orchid Press, is the result of his lifelong ambition.

Moe Min's international book debut is a stunning depiction of the religion which dominates the landscape, history and daily life of the Myanmar people. This is a land of monks and pagodas.
"They are everywhere," says Moe Min. "I've photographed landscapes, everyday lives and ethnic minorities in remote areas, but about 70% of my photographs were of Buddhist themes."
Images range from the great Buddhist shrines in Bagan, Sagaing and Yangon to colourful ceremonies and private moments of deep spirituality. A monk is caught by Min's camera pressing fervently against the grand Golden Rock Pagoda, immersed in deep prayer. Elsewhere, jovial novices play with cats in their monastery.
Like most folks in Myanmar, Moe Min grew up imbued with Theravada Buddhist philosophy and ritual. Born in 1959 into a family of merchants in Pyaw Bwe, a small town near the old royal capital of Mandalay, he left for Yangon at the age of 14. The artist in the family was his older brother, a painter, and Min spent a good deal of time with him and his circle of friends.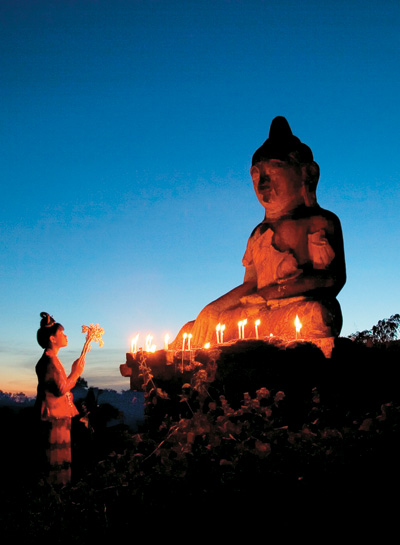 When I saw the figure of the Lord Buddha at the ancient capital of Mrauk U, Rakhine, in the open and without any cover or structure, I felt a sense of freedom, peace and reverence. – Moe Min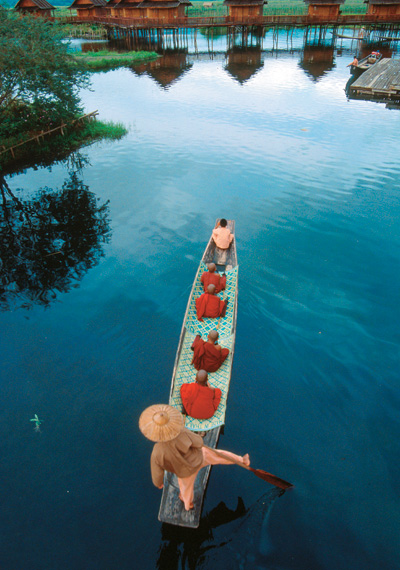 While looking over Inle Lake from a bridge, I spotted a boat rowing past with monks onboard. As is the tradition on this lake, the boatman was using his legs to propel the craft. The colour of their robes blended in well with the overall scene, so I asked them to make several passes and they willingly obliged."

"I also wanted to be an artist, but it turned out that I couldn't paint,'' Moe Min says. So at the age of 16, Moe Min turned to photography, working his way from portrait shots that accompanied magazine interviews, to cover images and then to contributions to photography books. From 1980 onwards, whenever he had some loose change in his pocket, he would head out into the Myanmar hinterlands with his camera.
Moe Min studied physics at the prestigious University of Yangon, yet never put his degree to any professional use. Instead, he took a basic photography course at the Myanmar Photographic Society, one of the country's few non-governmental organisations with some 10,000 members, including 200 to 300 professionals and active amateur photographers.
Decades later, and now regarded as one of the country's top photographers, 48-year-old Moe Min gives back some of the knowledge he has acquired to the new generation.
"All of my old teachers have now passed away," he says. "So I am now doing the teaching."
In Buddha's Land: Visions of Buddhist Myanmar could also be viewed as an extension of this teaching, a way to educate the world about the beauty of his homeland. Here, in his own words, Moe Min describes eight of his favourite images from his new book.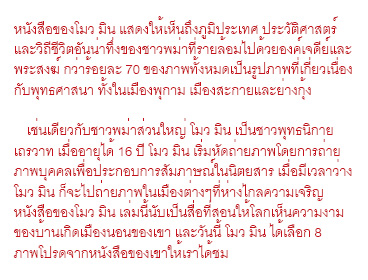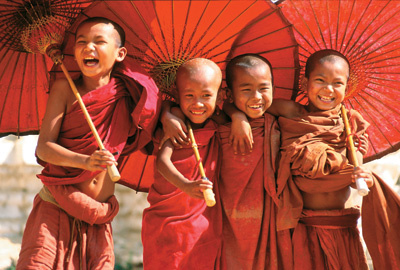 "Novices from a monastery in Mandalay strike a happy pose. Although they wear the robes, they are not full-fledged monks until ordained at the age of 18. Children will be children, often playful but under the tutelage of their abbot. This photograph turned out to be extremely popular in Myanmar and was widely reproduced."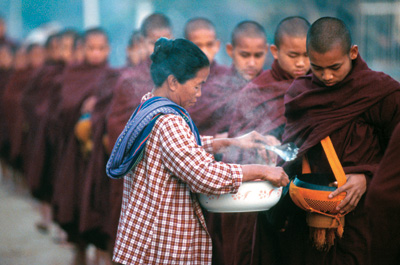 "This is a common scene at dawn in the city of Mandalay. The lay people offer food to processions of monks from the city's numerous monasteries. I managed to capture this moment from afar with a telephoto lens, allowing the steam from the bowl of rice to be clearly visible."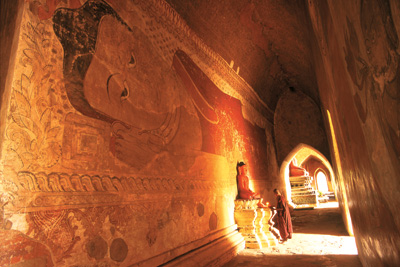 The interior of the Sularmuni Pagoda is known as the 'Crowning Jewel' of Bagan and the beautiful shrine was constructed in the 12th century. I wanted to show the graceful art and architecture of that time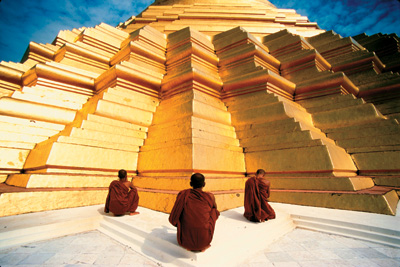 Monks pray at the upper terrace of Yangon's Shwedagon Pagoda, one of Buddhism's most magnificent edifices.
I took the picture because I liked the structural lines under the bright light, enhanced by the wide lens at a low angle.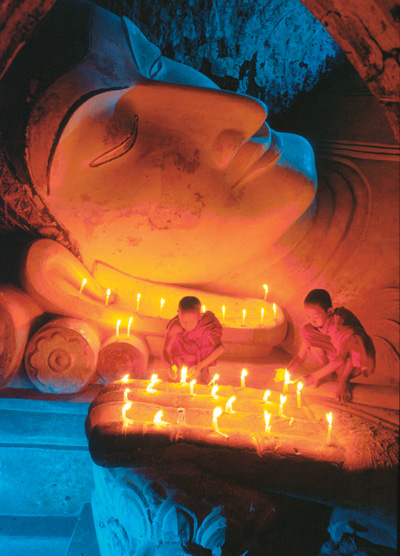 "An awesome Buddha lies in Shwe Tha Lyaung Pagoda in the ancient royal seat of Bagan while novices offer candles to their Lord. I asked them to light more candles and I added some blue light to attain a dramatic effect."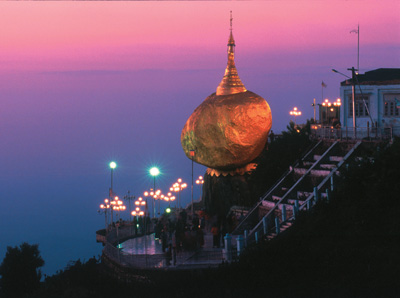 "Dusk falls on the Golden Rock Pagoda in Mon State, where a hair of the Lord Buddha is enshrined. A favourite spot of photographers and tourists alike, Buddhists regard the pagoda, with its gold-covered boulder perched precariously on a cliff, as a miraculous wonder. Here, I attempted to capture the surreal quality of the place."

[More Orchid Press Reviews]